About Fran:
I am a pianist and singer: I started learning the piano when I was five – so I learned to read music as I learned to read words.
I have extensive experience as a rehearsal pianist, accompanist and playing background music for events, weddings, etc.
I also have extensive experience as a singer – choral, folk and solo – for many types of performances, services and for recordings.
Work experience: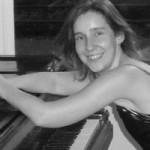 Accompanist, repetiteur, singer and cocktail pianist, audition skills tutor and arranger.
As a youth: rehearsal pianist and accompanist for schools (choirs and productions), amateur operatic groups and student/university departmental productions. Singer in large and small vocal ensembles – classical, sacred and folk work.
After graduation: in full time employment in London, so more focussed on choral singing, taking part in a number of tours (UK and Europe), the BBC Proms 2006 and 2007 seasons, and a large number of concerts. Studio recordings for Howling Entertainment (with Purcell Singers).
Some opportunities to deputise during this time (West End shows, for choir rhsls, etc). Repetiteur for small vocal ensemble, Tredici.
From Oct 2007: ceased full time employment in order to devote more time to being a pianist again. Work has included weddings (services and receptions) and other events in and around London, including the Waldorf Hotel, Theatre Royal Drury Lane and the Royal Court.
Vocally, Oct/Nov 2007 Les Noces at the Barbican Theatre (with NLCC, for the Michael Clark Dance Co), as well as the usual run of concerts.
I have worked as a repetiteur, accompanist, audition pianist, singer and session musician. I have also recorded rehearsal CDs for soloists to learn and practice with, arranged music for piano, vocal ensembles, theatre bands and orchestra, and created vocal scores and piano reductions (I mainly use Sibelius, but can also use Finale).